---
Conveniently located at the corner of Trinity Drive and Mountain Road
---

Trinity Dental's experienced team of caring professionals provides quality treatment in a welcoming, professional atmosphere, featuring a great location, TV's in all treatment rooms, and a comfortable seating area with WI-FI.
---
---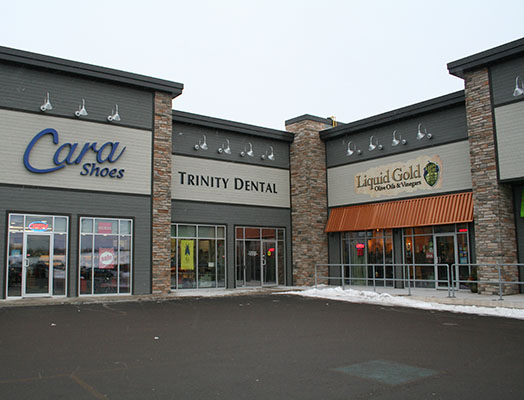 Open for appointments:
Monday 8:00 a.m. – 4:30 p.m.
Tuesday 8:00 a.m. – 4:30 p.m.
Wednesday 8:00 a.m. – 4:30 p.m.
Thursday 8:00 a.m. – 4:30 p.m.
Patients are screened according to the most recent NB Public Health Protocols.  Wearing of masks remains mandatory while in the common areas of the clinic.  All patients that present themselves for an appointment will be asked to wait in the parking lot, call our office upon arrival and wait on instructions before entering.  Only one patient at a time will be allowed to enter the clinic, and must present alone unless it is absolutely necessary to have assistance while on the premises.  All individuals entering the clinic, will be processed in the same manner – no exceptions.  Please be aware that we will do our best to reduce wait times, but that the Covid-19 protocols do require more time.
Please do not bring any unnecessary items in with you.
We are able to offer dental hygiene services, with some restrictions.
We strongly encourage you to visit the NB government website, to review the Public Health Advice regarding Covid-19.  Your health and safety, as well as the health and safety of the staff, are our priority.
Thank you for your patience and understanding.

 "Everyone feels good when you smile – so make that smile one to remember!"